Operation Monitoring operation

We monitor the operation of power plants 365 days a year.
Our monitoring center checks the state of the operation of power plants 365 days per year. We regularly check the state of operation and monitor whether any problem alerts are issued in order to keep a close eye on whether or not the power generation equipment is undergoing normal operation for the early discovery of failure.
If any system failure is observed, we dispatch not only engineering staff around the country but also specialists who are familiar with solar power generation from the headquarters as required to investigate the causes and restore the equipment.
Our Specialists
Monitoring Specialist

Yasunori Takahashi

He issues appropriate instructions in response to the occurrence of problems and plays a leading role in the restoration of power generation equipment. He also helps to discover and respond to failure that is unlikely to be uncovered through power generation analysis and other methods.

Trouble Response and Equipment Restoration Specialist

Taiji Wada

He rapidly identifies the causes of failure on the basis of details on alerts from power plants and the results of emergency response actions. He works on plans for the immediate or early recovery of the equipment and puts them into practice to help reduce power generation losses.

Equipment Maintenance and Inspection Specialist

Takumi Tsuruoka

With his unique perspective and analysis method on the basis of his experience in designing and constructing power plants, which ordinary inspectors do not have, he contributes to the early detection and prevention of problems, not only with electrical equipment but also with buildings and structures such as platforms and foundations.
---
The monitoring center is linked to our bases all over the country.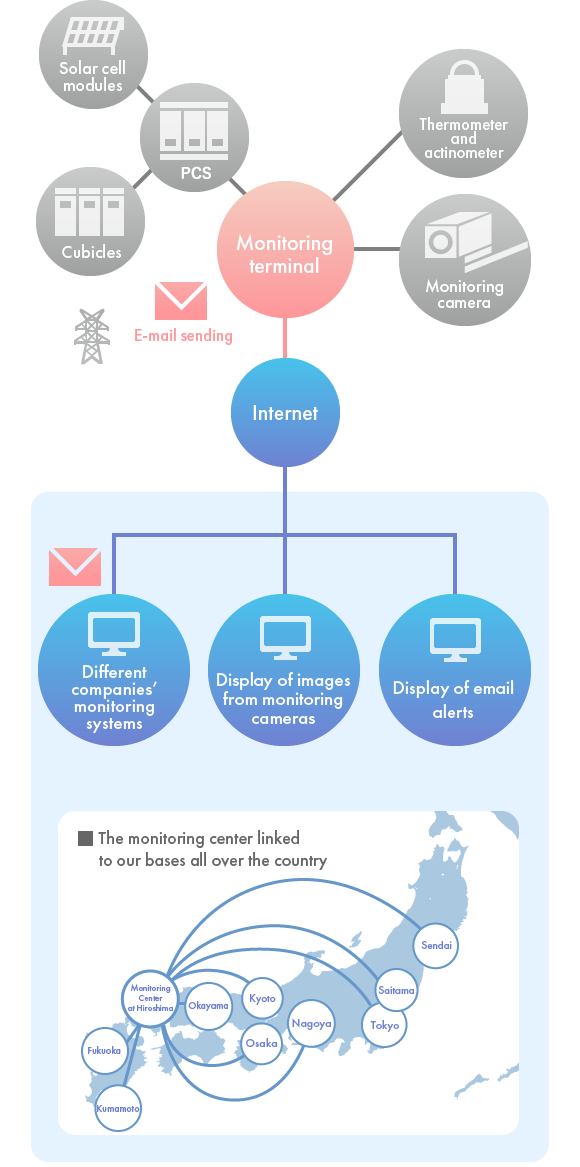 Contact Us