Emergency Response

We will take immediate emergency response action upon a problem alert.
As soon as a problem alert is issued due to an accident or other event, we will deploy chief electricity engineers and other personnel to the site to learn the status of the power generation equipment. If it is impossible to restore the equipment by deploying personnel alone, we will send specialists who are familiar with solar power generation and carry out device replacement with spare items and other work in an effort to restore the system. If it is difficult to implement the action mentioned above, we will discuss it promptly with the manufacturer and strive to restore the equipment as soon as possible.
---
Maintenance, Management

We will carry out maintenance management by responding to failures, management for data management at power plants, and inspections by chief electrical engineers.
We will manage data at power plants as well as perform failure response and management for inspections conducted by chief electrical engineers in accordance with the security regulations. We will also carry out arrangements for exchanging modules and construction work for exchanging wires among the modules and connection boxes within the scope of the warranty of the manufacturer of the solar battery.
---
Damage Insurance Procedures Service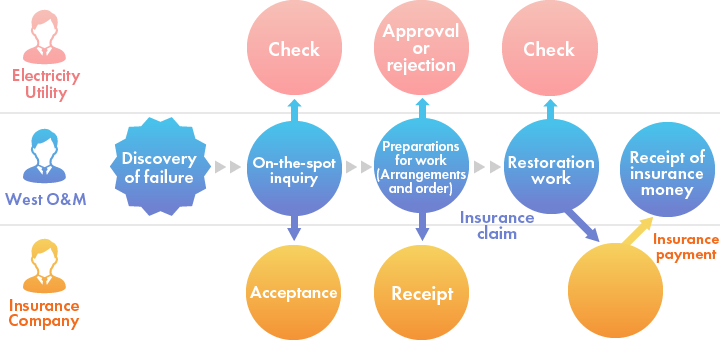 We will undertake cumbersome insurance procedures on your behalf.
If you use insurance to finance equipment repairs and restoration in the event of damage to any solar cell module caused by a flying object, the failure of equipment due to a natural disaster or any other event, we will undertake the insurance and other procedures on your behalf.

* This service is available solely to subscribers to contract plans including the Damage Insurance Procedures Service.
The insurance procedures include the following (this varies depending on the insurance company and the plan):
(1) Preparation of materials that explain the state of the equipment
(2) Calculation and estimation of expenses for repairs and restoration
(3) Inquiry to the insurance company as to whether the insurance policy is applicable
(4) Preparation and submission of insurance claim application documents
(5) Attendance at the on-site check for the calculation of the insurance claim
(6) Placement of orders with contractors for repair and restoration work
(7) Submission of insurance claim documents after the repair and restoration work
Apart from these, the filing of an appeal against, for example, the amount recognized by the insurance company falling below the amount of application is included.
* Even if you subscribe to a contract plan including the Damage Insurance Procedures Service, you will need to affix your signature and seal impressions to the insurance claim documents.